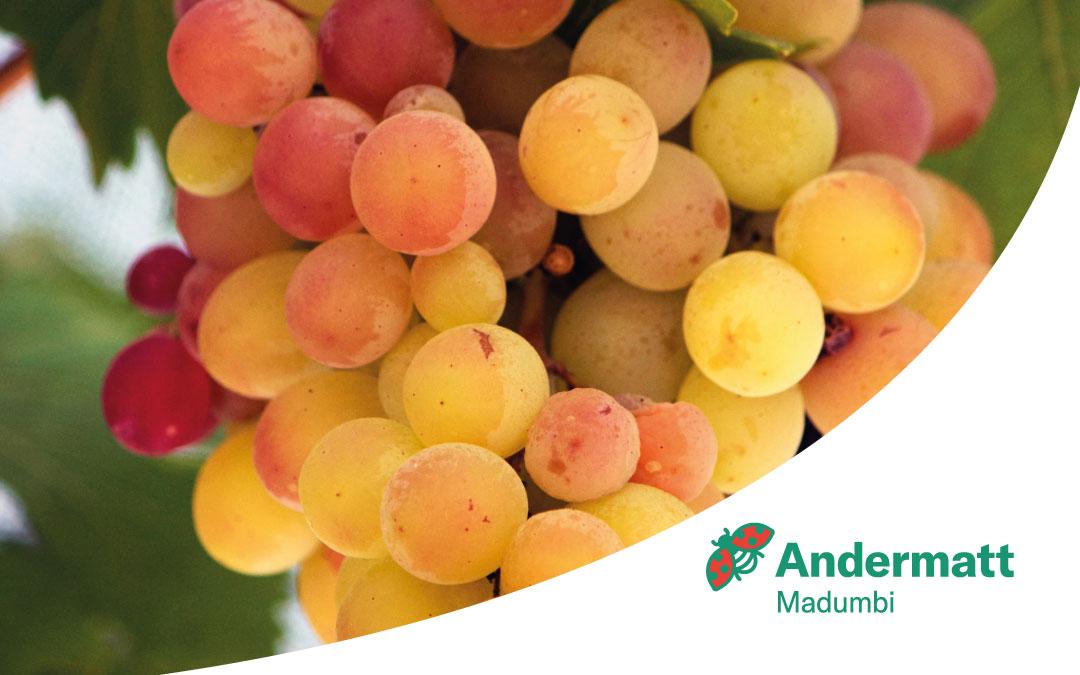 Andermatt Madumbi prides itself in the suite of bio crop protection solutions registered for the suppression and control of pests and diseases on grapes (table and wine grapes)
Two key products, Eco-77® and Double Nickel®55 offer quality, effective and registered solutions, to support growers in their 'fight' against Botrytis and Powdery mildew suppression.

DID YOU KNOW?

Both Eco-77® and Double Nickel®55 are suitable for use in growers' existing IPM programs. The products are easy to use, robust and have good compatibility allowing them to be tank mixed with most conventional chemical products (please confirm with your regional Biospecialist).
Eco-77® and Double Nickel®55 can be included in programs as a resistance management tool. Resistance management is a key factor to consider in IPM programs, particularly in the grape industry at present as some conventional solutions are no longer available.
Both solutions are MRL free. Early incorporation into IPM programs gives growers the benefit of having a wider range of solutions available later in the growing season when pest pressure may be more severe.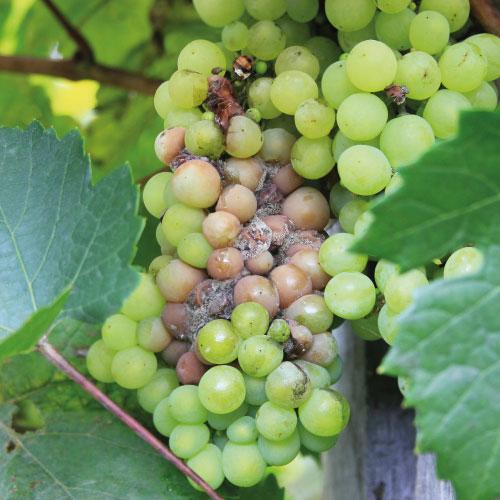 Crop infected with Botrytis cineria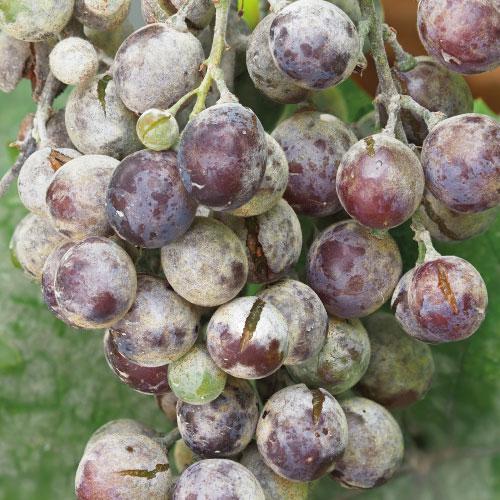 Powdery mildew on grapes (Uncinula necator)
Double Nickel®55 is registered for suppression of Botrytis, Powdery mildew and Downy mildew on grapes.
Eco-77® contains the beneficial fungus Trichoderma atroviride which, unlike the more common Trichoderma asperellum, was isolated from the aerial environment and is well adapted to UV and high temperature conditions.
Double Nickel®55 contains the beneficial bacteria Bacillus amyloliquefaciens strain D747 and is a preventative biofungicide for the suppression of fungal pathogens of a range of crops.
Biological solutions differ from conventional synthetic solutions and the transfer of credible, accurate knowledge is key.
Growers must ensure that they purchase quality, registered products that are effective at local level, from reputable companies that are backed by science. Product training along with on-farm technical guidance and application support needs to form part of the product commitment.
For more information please contact your Andermatt Madumbi Biospecialist today.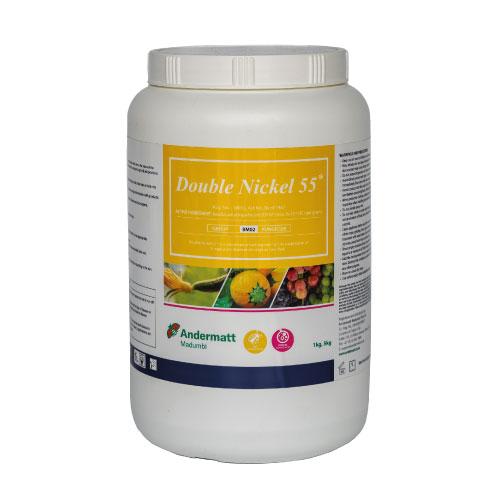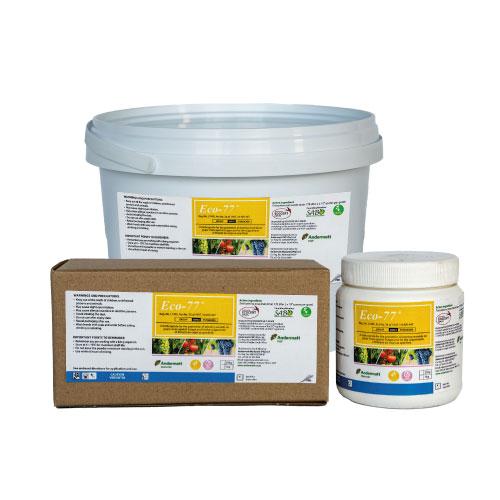 Andermatt Madumbi is trots op die reeks bio-gewasbeskermingsoplossings wat geregistreer is vir die onderdrukking en beheer van plae en siektes op druiwe (tafel- en wyndruiwe).
Twee sleutelprodukte, Eco-77® en Double Nickel®55 bied kwaliteit, effektiewe en geregistreerde oplossings, om produsente te ondersteun in hul 'stryd' teenBotrytis en Poeieragtige skimmelonderdrukking.

WEET JY?

Beide Eco-77® en Double Nickel®55 is geskik vir gebruik in produsente se bestaande GPB (Geïntegreerde PlaagBeheer) programme. Die produkte is maklik om te gebruik, robuus en het goeie verenigbaarheid met die meeste konvensionele chemiese produkte sodat hulle saam in 'n tenk mengsel gemeng kan word (bevestig asseblief met jou plaaslike Biospesialis).
Eco-77® en Double Nickel®55 kan by programme ingesluit word as 'n weerstandsbestuursopsie. Weerstandsbestuur is 'n sleutelfaktor om in GPB-programme in ag te neem, veral in die druiwebedryf tans, aangesien sommige konvensionele oplossings nie meer beskikbaar is nie.
Albei oplossings is MRL (Maksimum Residu Limiet) -vry. Vroeë insluiting in GPB-programme gee produsente die voordeel dat 'n groter verskeidenheid oplossings later in die groeiseisoen beskikbaar is wanneer siektedrukk erger kan wees.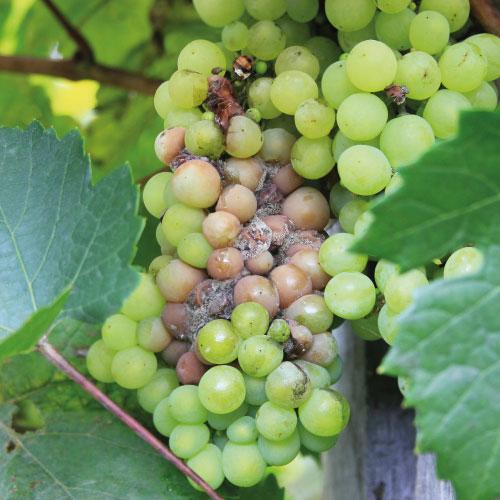 Gewas besmet met Botrytis cineria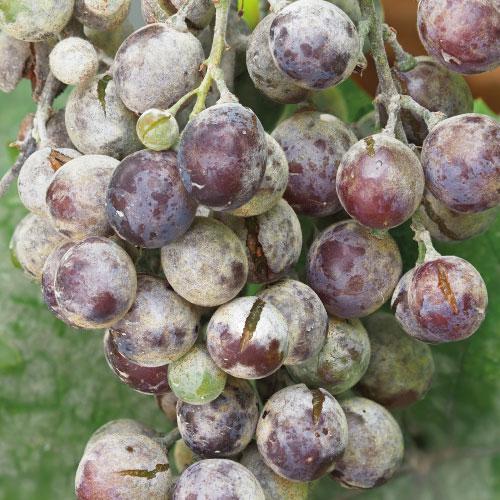 Poeieragtige skimmel op druiwe (Uncinula necator)
Double Nickel®55 is geregistreer vir Botrytis, Poeieragtige skimmel en
Donsskimmelonderdrukking op druiwe.
Eco-77® bevat die voordelige swam Trichoderma atroviride wat, in teenstelling met bv. die Trichoderma asperellum in Eco-T®, van die bogrondse plantoppervlak geïsoleer is en goed aangepas is vir UV-blootgestelde- en hoë temperatuurtoestande.
Double Nickel®55 bevat die voordelige bakterieë Bacillus amyloliquefaciens stam D747 en is 'n voorkomende bioswamdoder vir die onderdrukking van swampatogene van 'n verskeidenheid gewasse.
Beide hierdie oplossings het geen weerhoudingsperiodes en toediening is moontlik tot en met oes.
Biologiese oplossings verskil van konvensionele sintetiese oplossings en die oordrag van geloofwaardige, betroubare kennis is van kardinale belang.
Produsente moet verseker dat die produkte wat hulle koop geregistreer is, van hoë kwaliteit en effektief is, gerugsteun deur navorsing en voorsien word deur betroubare biorasionale maatskapye.
Vir meer inligting kontak jou Andermatt Madumbi Biospesialis vandag.