Biostimulant definition
"Biostimulants can assist growers to 'produce more with less'. Biostimulants target specific natural growth processes within plants. Increasing or decreasing these functions unlocks more significant potential for growth, yield, quality, stress tolerance and more. "
Dr Brendon Neumann,
Andermatt Madumbi Business Innovations lead
On a global level, the biostimulant sector is one of the fastest-growing agricultural sectors as growers look for new ways to 'grow more with less'. The demand for food production is increasing with a growing global population. At the same time, resources in the form of arable land, quality water supply, etc. are limited.
On a local level, the South African authorities have recognised the importance of this sector through the establishment of the Group III (biostimulant) fertiliser registrations. The requirements of the Group III registrations are more stringent, costly and time-consuming than conventional synthetic fertilisers. As a result of these requirements, future products entering the South African market will be adequately backed by science.
At Andermatt Madumbi, we view soil and root health as the foundation of sustainable agriculture. Soil and root health are essential for the production of healthy, nutrient-dense food, healthy people, animals and the environment.
Soil is a living eco-system which, together with a healthy root system, results in stronger plants which are naturally more resistant to various pests and disease.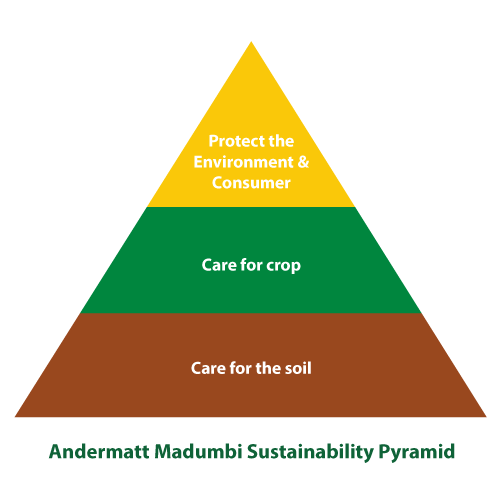 Andermatt Madumbi Biostimulant solutions
The Biostimulant range contains natural plant growth stimulants, often in combination with holistic nutritional supplementation. This is to improve the overall health of the crop, build stress tolerance, support and stimulate various stages of plant growth.
The V12 BioStimulant range is based on the 12 essential components of plant vitality, ie. the engine that drives plant growth.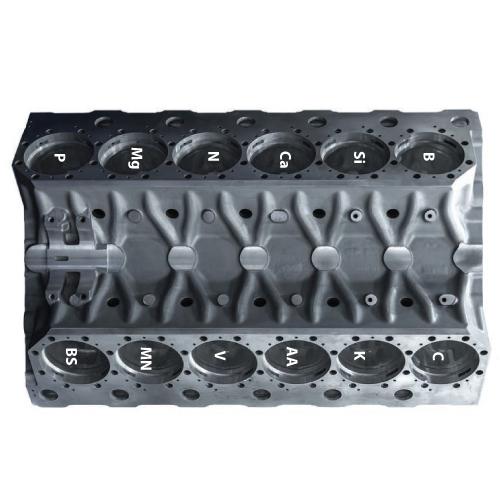 8 KEY ELEMENTS
1. Boron 2. Silicon 3. Calcium 4. Nitrogen
5. Magnesium 6. Phosphorous 7. Carbon 8. Potassium
4 KEY ELEMENTS
9. Amino Acids 10. Vitamins 11. Micronutrients
12. Biostimulants
The Plant Nutrition Cycle – 8 Key elements
ATP drives production of sugars from CARBON based building blocks
POTASSIUM is the electrolyte that drives the transport of sugars through the plant and creates the mechanism by which all nutrients are able to enter the plant cells.
BORON – Creates the sap pressure that drives uptake and movement of all nutrients.
Highly productive plants will shed nutritious sap into the rhizosphere to feed the Microbial Food Web which will drive further release of minerals from the soil for uptake by the plant.
Assisted by SILICA which creates a well functioning transport system for
improved uptake of water & nutrients, starting with …
CALCIUM which drives the uptake of other elements and is essential for cell division.
Which requires NITROGEN for formation of new DNA, Amino Acids etc.
Amino Acids form Chlorophyll which is activated by MAGNESIUM to drive light capture and photosynthesis.
Captured light is transformed with PHOSPHORUS into ATP, the plant's energy currency.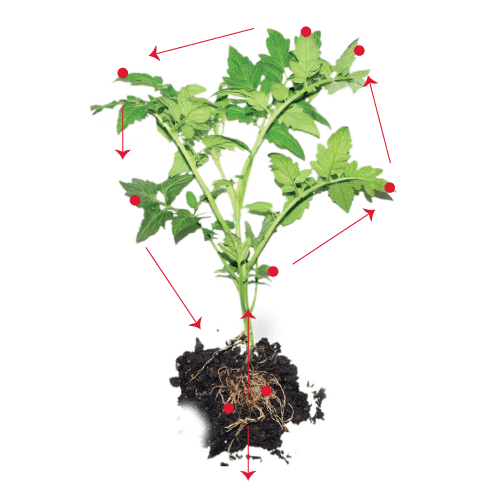 The Plant Nutrition Cycle – 4 Key Drivers
AMINO ACIDS are involved in plant stress physiology and can help plants to better tolerate/recover from stress conditions.
VITAMINS: Vitamin C contains antioxidant properties which reduce damage from free radicles and play a role in regulating cell division. Vitamin B1 improves photosynthetic efficiency, root growth and stimulates Induced Systemic Resistance (ISR).
MICRONUTRIENTS perform unique and key functions in plant metabolism (Zn, Mn, Co, Fe etc.)
BIOSTIMULANTS play a role in stimulating a range of plant processes and improving plant efficiency.
At Andermatt Madumbi, we combine niche products and proven management strategies to produce the best outcome in terms of healthy, high yielding, nutrient-dense, low residue crops.
Our regional team of biospecialists are constantly refining programs to ensure Andermatt Madumbi remains at the forefront of new developments to best assist all growers.