Dear Laeveld Agrochem team
Healthy Food and Healthy Environment, for all
– starts with each and every one of us.
It gives us great pleasure to announce the Andermatt Madumbi Green Jersey recipient for the 2022/2023 season:
Johan Visagie from Laeveld Agrochem, Letsitele.
The Green Jersey award celebrates the exceptional agents championing Andermatt Madumbi's biological solutions. The award recognises commitment over and above the ordinary, acknowledging the success and impact achieved on farm level.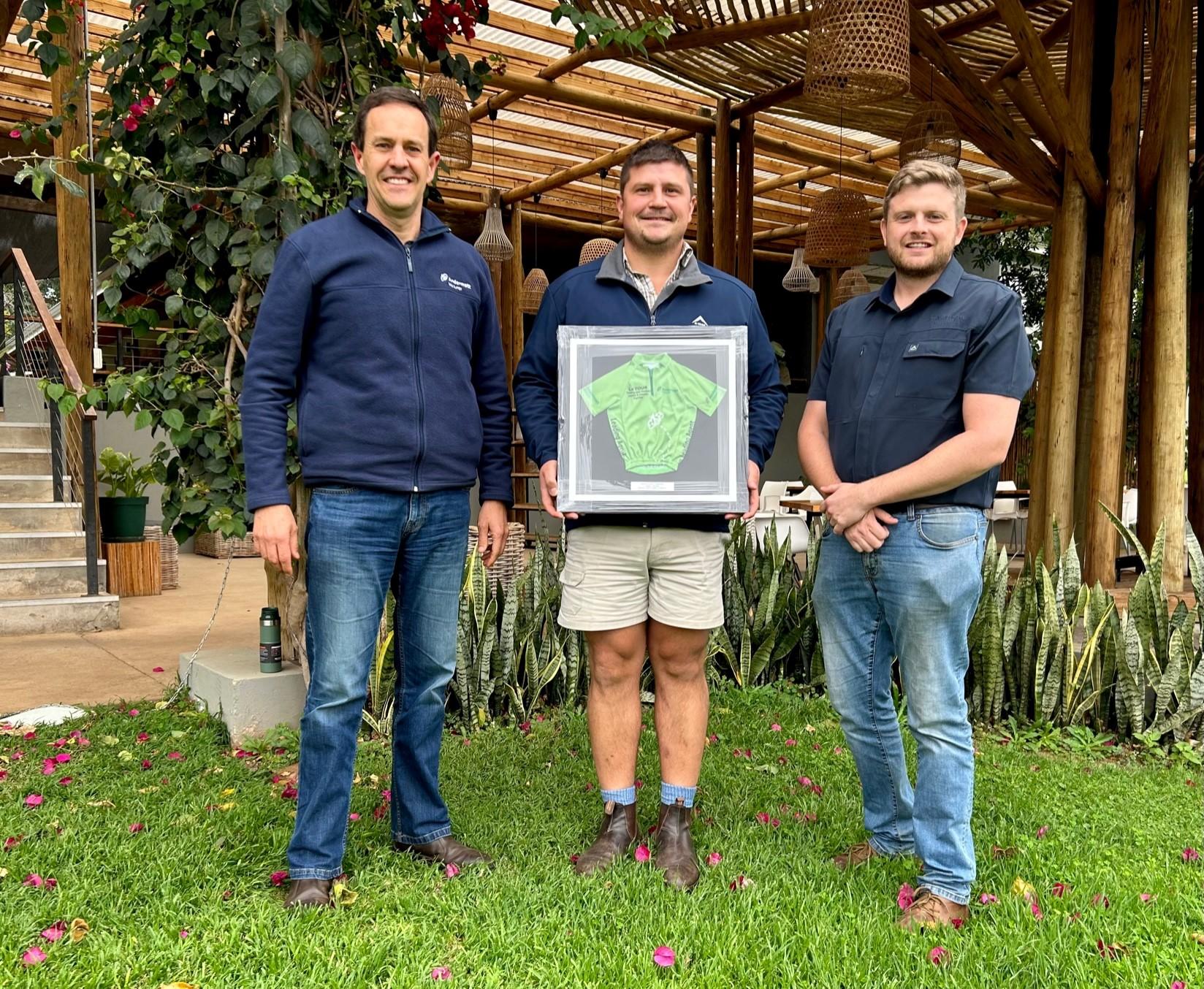 Ben Krog (Commercial Lead), Johan Visagie (Green Jersey Champion) and Attie Odendaal (Biospecialist).
"Johan's unwavering dedication revolves around delivering top-notch service to his clients. He is committed to providing tailored agricultural recommendations to suit the unique needs of each farmer. He firmly believes that consistently achieving positive outcomes is the cornerstone of trust-building and the bedrock of success.
In the face of the current challenges confronting the citrus industry, Johan remains a steadfast advocate for biological solutions. He equips his growers with integrated, economical strategies to maximise their competitive edge in the market.
With a permanent smile on his face, radiating energy and optimism, Andermatt Madumbi proudly honours Johan as our 2022/2023 Green Jersey Champion.
Johan draws inspiration from nature to rejuvenate his mind and spirit. He reminds us all that it's essential to take time to listen to the wind in the grass, dance in the rain, walk barefoot on a dirt road, whilst knowing that all grace and power originate from a higher source."
– Attie Odendaal, Regional Biospecialist
Johan is the 8th Green Jersey recipient within Laeveld Agrochem and joins a network of excellence with previously awarded green minded recipients. A monetary award forms part of this award, to be used to purchase any item the depot may find of benefit to further support them in growing and building their green footprint in their area.
On behalf of myself and everyone in the Andermatt Madumbi team, we would like to congratulate Johan on this great achievement.
Thank you, Johan and the Laeveld Letsitele team for being an integral player in contributing to our vision of 'Healthy Food and Healthy Environment, for all'.

Michelle Lesur
CEO, Andermatt Madumbi
First presented in 2015, the Green Jersey is awarded annually to the best performing agent within the Laeveld Agrochem distribution network.
A defined judging criteria has been created to guide our team in the allocation process.
The criteria considers a range of factors including turnover, GP, growth as well as the agent's biological product portfolio. This has further developed into a point system, with weightings supported by a motivation from the regional Biospecialist.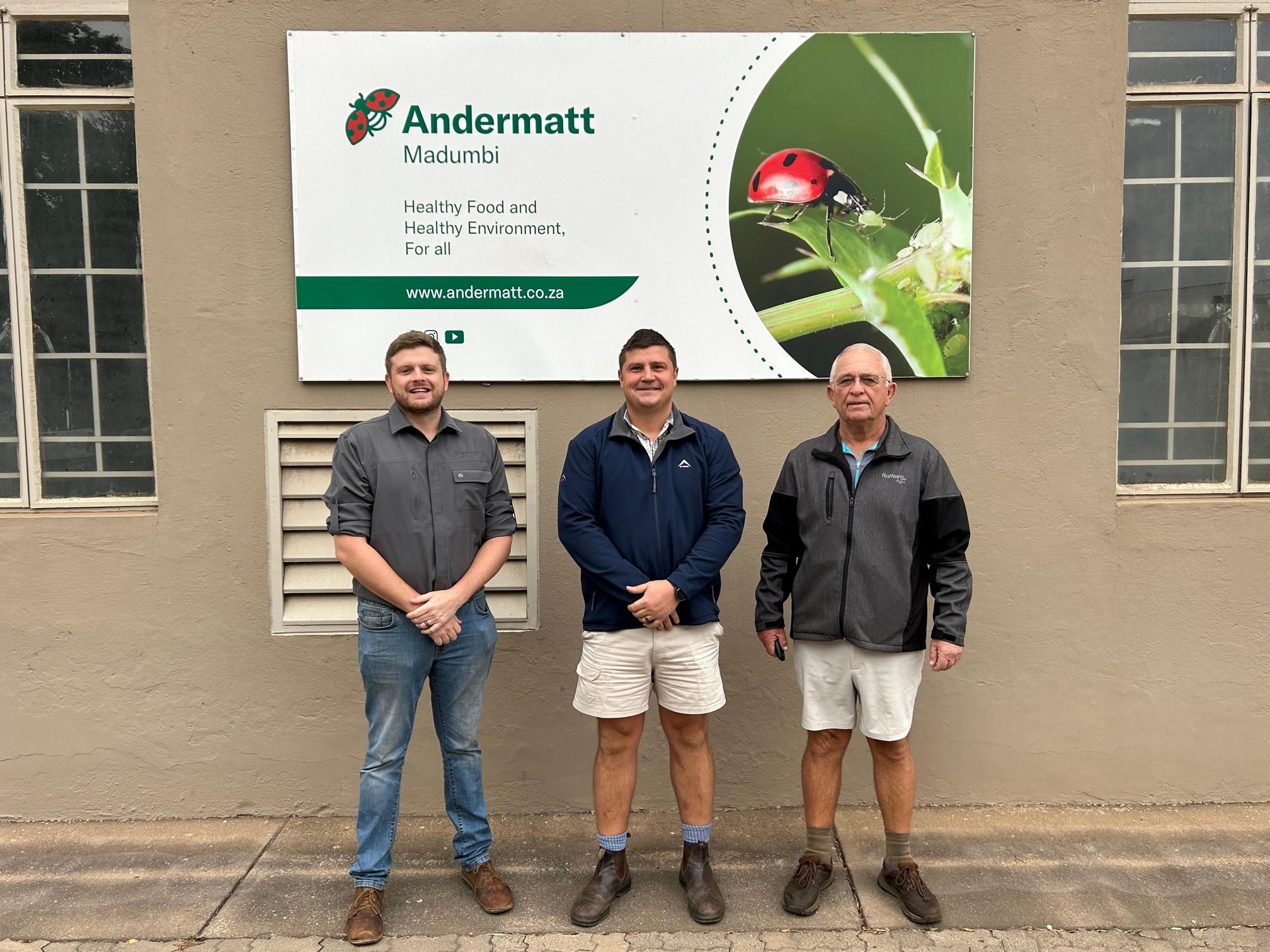 Attie Odendaal (Biospecialist), Johan Visagie (Green Jersey Champion) and Deon Maré (Laeveld Agrochem Letsitele Franchisee and mentor).