Andermatt Madumbi are proud to share that our Bio Crop Protection Labels have been approved in accordance with the new GHS legislation.
"Partners, agents and growers should be aware that all crop protection product labels are changing and will continue to do so for a while. The reason for this is because of the Globally Harmonised System of Classification and Labelling of Chemicals, or GHS for short, which affects chemical agents in various industries." – Elriza Theron, CropLife SA
All Andermatt Madumbi's Bio Crop Protection GHS labels have been approved. The new label designs are in print and will replace the current labels over the course of the 2023 season.
The GHS legislation has necessitated a complete change in label design. Together with Andermatt PHP, Andermatt Madumbi has taken the opportunity to simultaneously upgrade all granular/powder packaged products into recyclable flexible HDPE doypacks. As environmentally conscious companies, we are continuously opting for biodegradable and recyclable packaging alternatives.
– The new GHS legislation requires product hazards to appear on the front label panel.
– Labels are copy heavy, photos and graphics have been removed to meet the new requirments.
– The traditional pesticide 'colour bar' classification system no longer features on the GHS approved labels.
Changes to be aware of on the Andermatt Madumbi GHS labels:
– New bio classification colours have been introduced, aligned to the Andermatt Corporate Identity: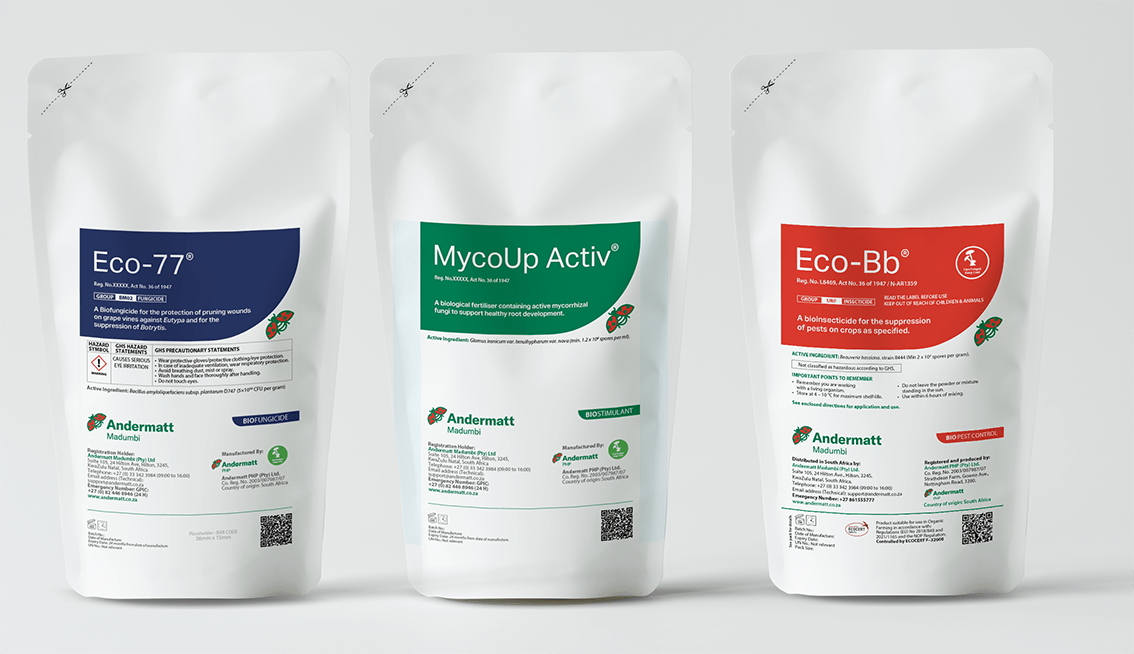 • Bio Pest Management
(Red)
• Bio Disease Management
(Navy)
• Biostimulants
(Green)
– All Bio Crop Protection labels are 'Fold out' labels i.e. no front and back label, once opened the full label expands for easy comprehensive reading.
– All powder and granular formulations will be packaged in recyclable doy packs i.e. 100 g, 250 g, 300 g, 1 kg, and 5 kg.
– The unit pack size is not indicated on the label, but rather directly on the packaging unit.
– A QR code appears on each label, for quick access to detailed product information on www.andermatt.co.za.
Kindly be advised that Andermatt Madumbi awaits the approval of the Plant Vitality GHS labels and will keep you updated on this status.
Our team looks forward to rolling out the new look labels and completing this process as soon as possible.
Learn more about GHS labels: