The word 'Regenerative agriculture' is being used more and more regularly by future focused growers across all facets of agriculture.
After a lengthy delay to in person events thanks to COVID, I finally had the opportunity to attend my first Regen Ag SA event, held at Old Kilgobbin, Dargle in the beautiful KZN Midlands. The speaker line-up including Professor Mark Laing, Peter and Andrew Ardington attracted an audience of 73 grower enthusiasts. A field visit guided by Carlene Bronner facilitated a practical Q&A session, ensuring that everyone had the opportunity to engage, learn and share their knowledge. It was a hugely successful day.
Our Andermatt Madumbi team had further discussions with Peter and Andrew during the course of the week. We learned a lot and are energised and inspired to work more closely together. Herewith a summary of my key learnings.
 What is 'Regenerative agriculture' exactly?  
Regenerative Agriculture is farming in such a way that soils are regenerated rather than depleted. 
In the world of Regen Ag, agriculture may be categorised as:
Conservation Agriculture (practices No Till, Crop Rotation + Cover Crops)

Regenerative Agriculture (practices the above with minimising chemical inputs and the incorporation of livestock)

In future: Organic Regenerative Agriculture (ultimately requires no synthetic inputs)
A key aspect of the transition from conventional to Regenerative Agriculture is that the grower must make deliberate changes to their growing processes over time as they look to reduce their reliance on external inputs. 
You do not have to completely change the way you farm overnight. The ultimate goal is to build and grow the farm ecosystem, nurturing it to be as self-sufficient as possible.
Why would growers look to farm regeneratively?
In short there are two good reasons why regen is the 'way to go'.
Sustainability
Almost all growers realise current farming practices are not sustainable. Something has to change. A regenerative approach is exactly that: regenerative. In other words it 'builds' soils, ecosystems, water availability, biodiversity, nutrient availability etc. 
2. Return on Investment (ROI)
Ultimately bringing back ecosystem services and using fewer external inputs gives growers more control over the variable factors outside their control i.e. fertiliser and pesticide costs.
(NB! Regenerative farming is a long-term approach, initial inputs require investment. Key take out: this is not a cheap, quick fix for the lazy.)
Farm economics – it comes back to numbers.
Economics has never been my strong point, but the basic trend and theory can quickly be visualised with the below graphs: 
Over time
Soil health declines

Input costs rise

Yields and profitability suffer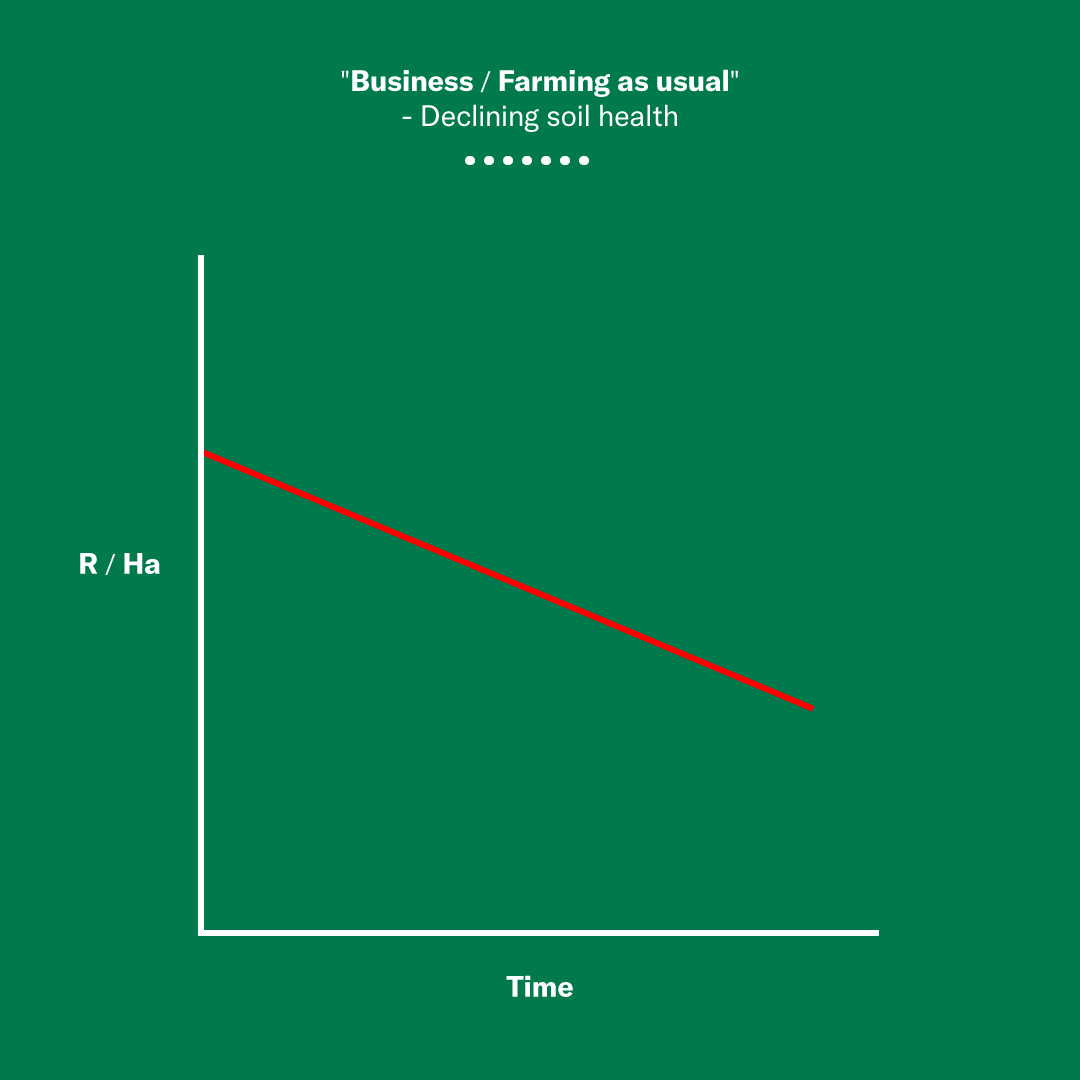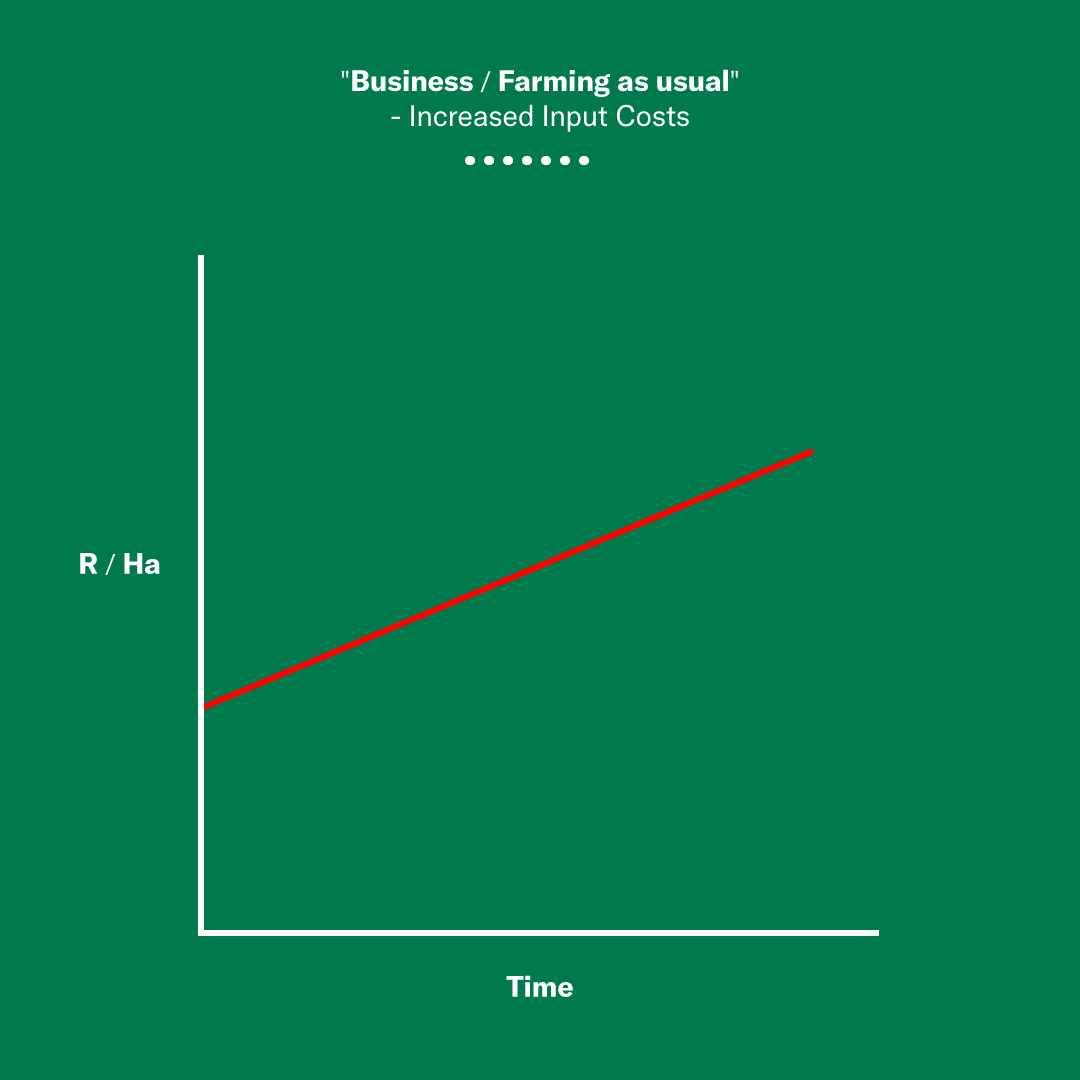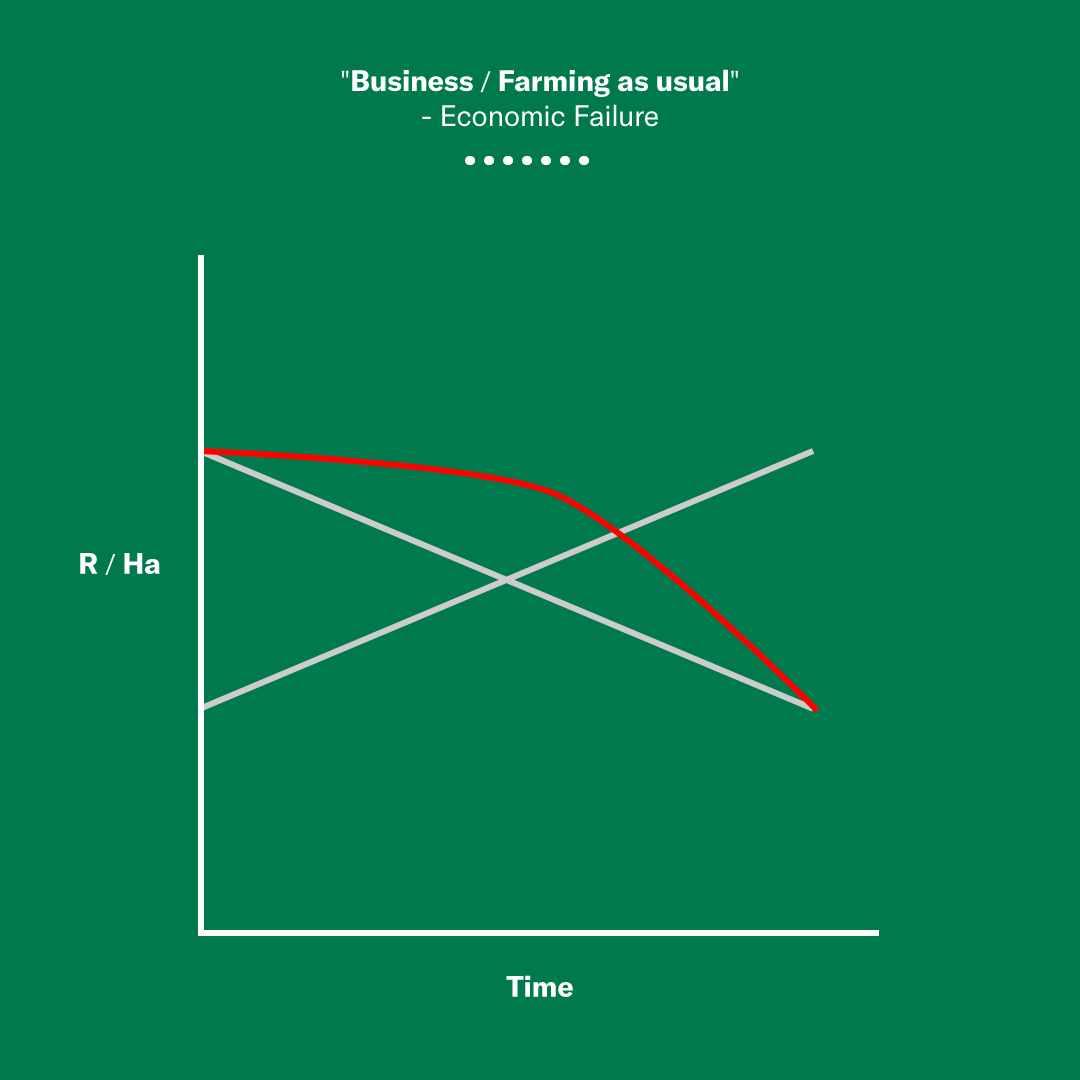 Given the global decline in soil health, changing this curve is not optional if you wish to remain profitable. For growers with a long term and sustainable vision, something clearly needs to change.
Soil Savvy
At the heart of regenerative agriculture is the soil. At Andermatt Madumbi (AMAD), healthy soil and roots form the foundation of our holistic approach to agriculture. So, this part of the conversation was super easy for me to understand and embrace.
AMAD typically refer to the sustainability pyramid where soil and root health form the foundation of a healthy plant. Healthy plants are stronger and thus more tolerant to external stress and pathogen pressure. Ideally, less pesticide intervention is required, and our vision is to offer effective biological, natural solutions that work with nature to ensure 'Healthy Food and Healthy Environment, for all'.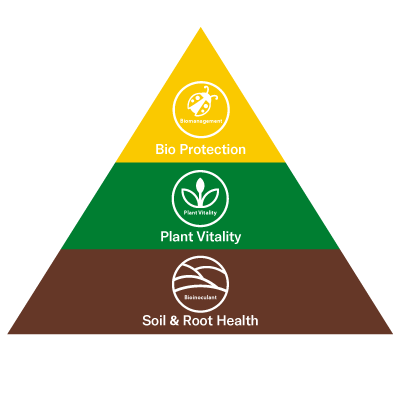 The Sustainability Pyramid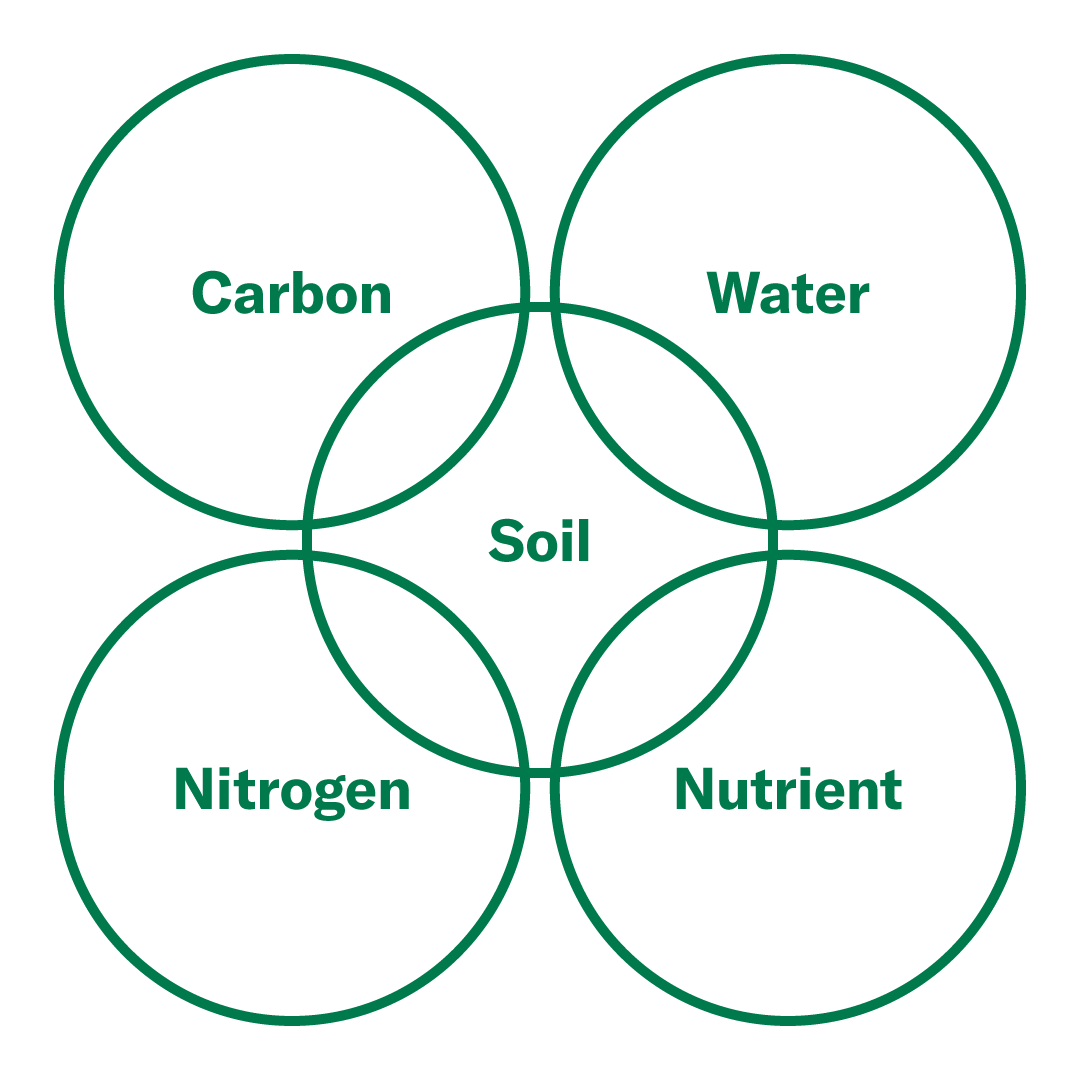 The RegenAg team highlighted another pivotal interaction that I had not yet considered. 
Soil is at the centre of all the major nutrient life cycles that sustain our planet:
Carbon cycle

Nitrogen cycle

Water cycle

Nutrient cycle
Today, it is widely acknowledged and recognised within the agricultural industry that our soils have been overlooked, over-utilised and undervalued for too long. In fact, our soils are being depleted at an astonishing rate and in South Africa, we lose 13 tons of soil/annum*.
Another frightening statistic is that as a country on average 3 tons of soil is required to produce 1 ton of maize. This is not sustainable.
Is it all doom & gloom?
Yes, and no… 
The bad news is that in order for change to be affected, farmers (and all consumers) need to recognise the spiralling system and actively embrace change.
The good news is that the solution lies in soil biology (i.e. soil life and soil ecosystems). The soil ecosystem is an effective, self-sustaining cycle that is remarkably resilient and recovers quickly. The soil ecosystem can ultimately be restored, stabilising the environment and regenerating farm economics.
Restoring and rebuilding soil takes commitment and time. There is no 'quick fix' solution and no time to waste. 
As the old Chinese proverb suggests: 'The best time to plant a tree was 100 years ago, the next best time is today'.
The 5 principles of regenerative agriculture.
Another key takeout from my exposure to the Regenerative Association SA, is that there is no guaranteed 'recipe for success'. The association and her members are committed to 5 principles.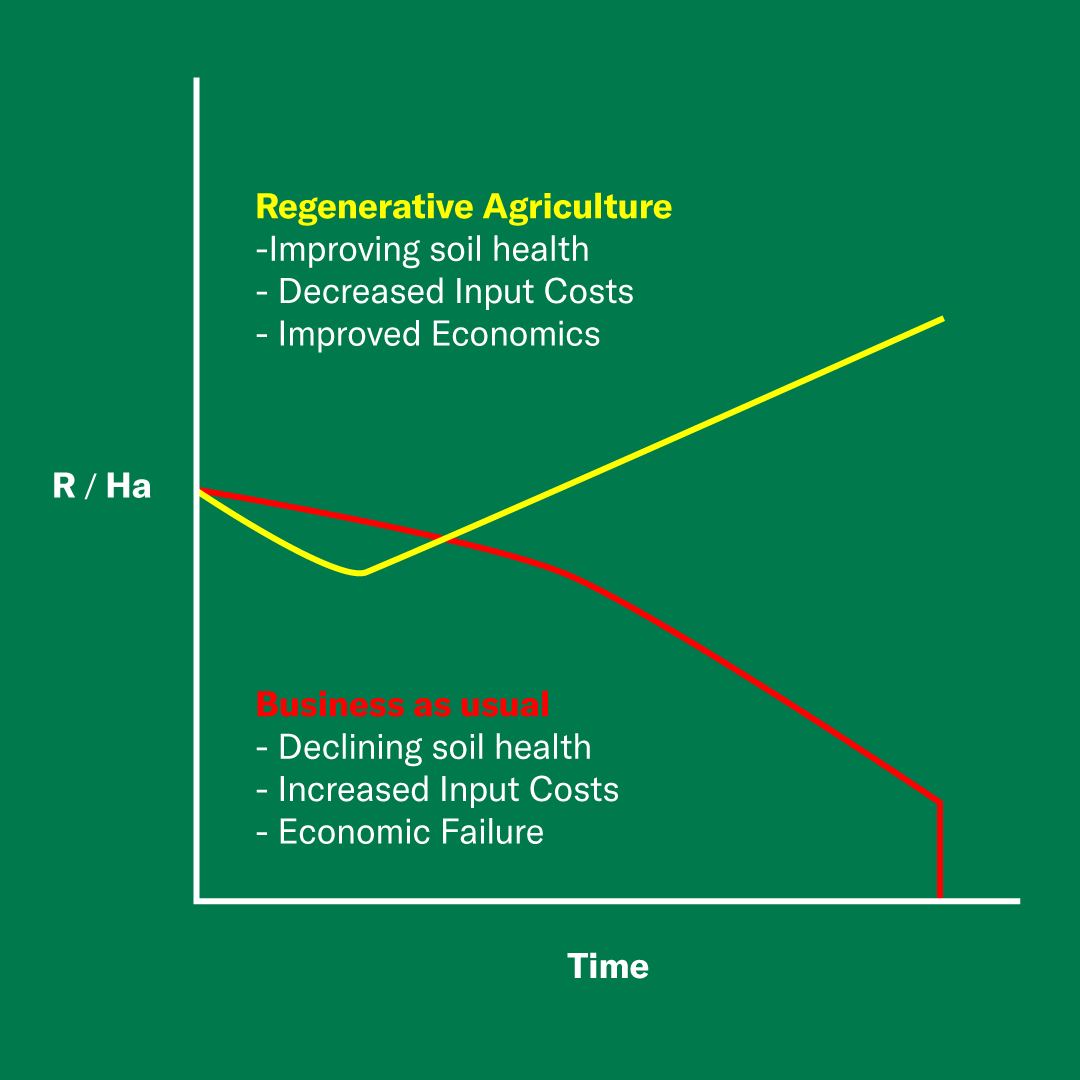 Implementing, working and discovering the principles that best work for each grower is a constant work in progress. Collaboration, knowledge sharing and partnerships are key. 
In summary, the 5 principles of regenerative agriculture and healthy soil biology are:
 
Minimum soil disturbance (nurture and protect the ecosystem)

Cover bare soil – a cover acts as a 'blanket' and buffer

Biodiversity – both above and below ground

Living roots – maintain life in the soil

Incorporate livestock – managed grazing, nutrient recycling & stimulating the soil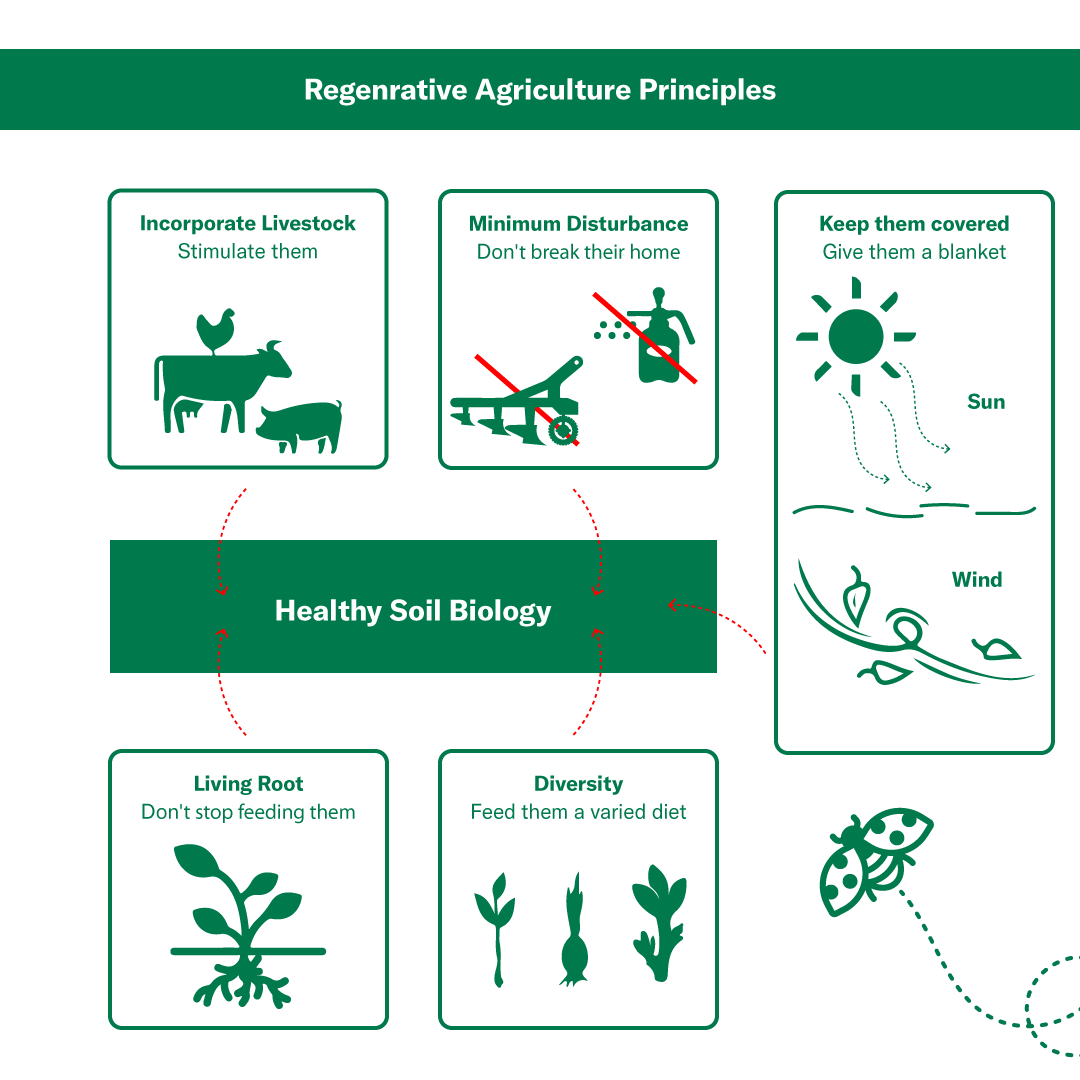 In conclusion, is this all 'for the birds'?
As a proud mom of four, wife of one, who is privileged to be living in this beautiful country, and working in our dynamic agricultural industry – with a company committed to change, I am but one small voice.
For those who know me, everyone will agree that I am a 'glass half full' kind of lady and as such, I feel there is no need for me to give you my answer to this question. What's yours?
—————————————————————————-
Donvae Hooker is the Business Communication Lead at Andermatt Madumbi, Hilton, KZN. With a BSc Agric degree, Donvae is passionate about 'the science' but sees her key role as repurposing technical content in an accurate easy manner, that makes sense and inspires all. For more info contact donvae.hooker@andermatt.co.za